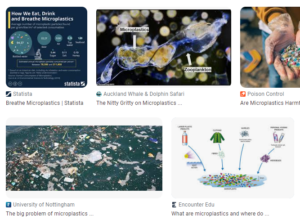 This best practice reports an open schooling initiative about Microplastics
There were 55 students who participated in this open schooling project from Duke's Secondary School, located in Ashington – Northumberland.
CARE:  High engagement in the lesson, especially in following up reflections from the videos about microplastics, and group work designing their solution
Students were asked to interact with their families. They were invited to implement Holiday research into their single plastic usage.   Most children did not complete this however they had access to the resources required
KNOW: Students had an opportunity to learn from scientists through Video built into the lesson about researcher in microplastics. Increased understanding of microplastics and their impact on the planet, inc in the food chain.
DO: Some great group discussions and problem solving about capturing microplastics. Some interesting reflections and facts about our impact on the Earth and how we might mitigate this.
Findings: Some of the slides needed a little more background to them to make them wholly relevant, especially for KS3 students, for instance the slides on plastics and oceans.
It would have been nice to have a link to a video about how plastics are collected in the sea as there are some great examples of the boon being used.
They link nicely into the Materials chemistry curriculum which we happened to be teaching at the time, hence our choice of this lesson to teach.
The resources were good but needed a little tailoring in order to be really classroom-ready.
Outcomes: Appreciation of the difficulty of tackling plastic usage because of its pervasiveness in everyday life and the size of microplastic samples.
Understanding of some of the technology that can be used to tackle the problem.
I built in two practical activities: one demonstrating bioaccumulation and how plastics mount up as they pass through the food chain. Another looking at filtering of microplastics by using glitter in water. Both increased engagement and provided a tangible angle for students to link to.
I also showed them a laundry bag that I use for my plastic clothes (nylons, polyesters etc) that catches microplastic fibres and stops them from entering the water in the washing machine. We discussed which one would be easier to use: a filter on the machine or a bag around the clothes.
There was not enough time to go into the scale of microplastics in great detail, although for the Y8 students that we taught, this would have required too much broader knowledge to be easy to deliver straight away.
Forty-six students contributed to the open schooling research questionnaires. All of them mentioned that they would like to do more activities like this one. Most students practiced various skills including discussions and developing a project. They liked doing practical activities, working with friends and learning about microplastics.
More details of our report: on this link.