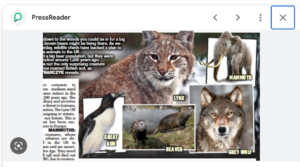 This best practice reports an open schooling initiative about Rewilding in Colchester! It was developed by The Thomas Lord Audley School – in ESSEX. The activities were supported by the Mastery Science team, two OU Researchers and the Science teacher in the UK.   There were 90 students from 3 classes involved in the science action about Rewilding. Most of them were very engaged to discuss about the animals and their environment. This activity included video about the socio-scientific issue in Youtube, some guidelines about how to use digital templates, graphs and mapping to produce presentations. Teachers found this resource very useful to help students make real-life connection with what they learn in school.
Care: The activities involved students. They were engaged with the content.  Some parents did not want to/appropriately take part however surprisingly a lot did. So students had the opportunity to engage with conversations about science – rewilding with their parents/carers, grandparents and siblings, including a vote system to collect opinions from different people about which animal should return to the environment.
Know: Students were able to understand the benefits and the risks when making a decision and using a theory. They analyse data that they investigated and discussed about the animals, and they increased their understanding about the how small chances (such as returning back to the environment) can create large implications (bring back the balance in the ecosystem to impact on biodiversity). They were able to improve their knowledge about ecosystems, food web and interdependence.
Do:  All student took place in a group that gave presentations and then the best of the classes presented in front of the whole year group a more in-depth presentation of their project. A scientist  from Chester Zoo evaluated the presentations and provided comments.
Findings:    The resources where very good for meeting needs; however some the images thrown together created a lot of amusement rather than being thought evoking.
Outcomes:   Some students were confident in making claims using evidence, but others need more support. The activity fitted well in the curriculum. There were various students who  struggled with the time aspect of the lessons as well as developing  the knowledge and preparing their communication to present within a single lesson.