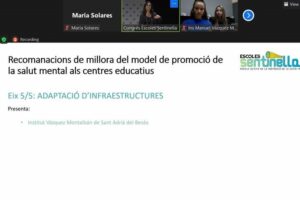 This good practice reports an open schooling initiative about " Participatory Research to improve mental health at the Vázquez Montalban Secondary School ", which was developed by the teacher Yolanda Navarro de l'Institut Manuel Vázquez Montalbán from 07/03/22 to 27/04/22. The activities were supported by the Living Lab for Health of IrsiCaixa.
Care: Students were worried about how to take care of their mental health.  In total, 108 students who were 16-17 years old and were studying 1st year of Baccalaureate participated.
Know:  The students learned about using the scientific method to solve real-life problems, biology concepts on mental health, and participation and communication skills. Other skills that the students put into practice were debating, asking questions, voting and consensus, co-creating recommendations and presenting results.
Do: In the end, the students participated in the Final Congress of Sentinel Schools presenting the recommendations for improvement agreed by the educational community. They completed the activities in groups and with the support of families, although not in full.
Findings related to Open Schooling approach:  The activity includes aspects from the curriculum, but it is necessary to consider the time to spend on the activities to match them in the schedule.  It was challenging to implement it because it was new to teachers, but very relevant and innovative.  Open Schooling can be useful for other teachers because it allows them to work on any topic of interest with a very interesting collaborative approach
Change/innovation supported by:
[ ] schoolhead  [  ] school association/network    [  ] local government [X] Other:  Living Lab for Health
Students' Outcomes: The students fulfilled the task, but without too much motivation since it was not a topic that they had chosen. However, in the end they ended up happy with the results obtained.
This practice contributed to increasing: 
[  x ] families' engagement in science   [X]  girls' participation in science.  [   ] students' science careers awareness